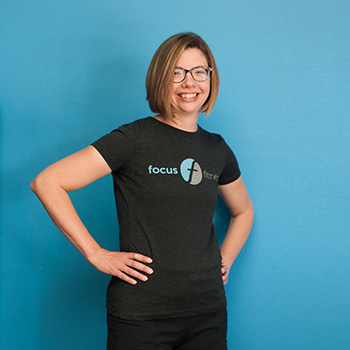 We've had the pleasure of having Stefanie as a member of Focus Fitness for 14 months now. After having a one-on-one trainer in the past, she joined our program with the hopes of having more flexibility, consistency, and better results. With her previous personal trainer, Stefanie was only able to fit a session into her schedule once a week.  With the flexibility of semi-private personal training, she is now able to train multiple times per week.
Since starting the program, Stefanie has achieved a higher level of overall fitness with a focus on strength and endurance. She also has experienced a positive feeling in her body. "I've had problems with knee and shoulder pain in the past but I've had less pain over time." Aside from physical benefits, working out at Focus Fitness has led to lower stress levels. Stefanie really enjoys working out. "Some workouts aren't fun, but I know those are probably the best for you. I feel good and refreshed after my workouts and am happy that I went in and put in the effort."
Stefanie's favorite part about having a trainer is not having to think about what she has to do and having someone else analyze what she needs to get better. "It's nice to show up, leave my day behind, and have someone guide me for an hour. It's nice to have the roles reversed for a bit." With the program at Focus Fitness, Stefanie likes the more intimate and supportive atmosphere. "I would definitely say this program is worth a try. It's a low-stress environment and everyone is here to help and encourage one another. Dave is also good at tailoring the programs to each person's needs. It's different from large gyms and working out alone. You can't really lose anything from trying this program."
Something that really stood out to Stefanie about Focus Fitness is the semi-private training aspect. "You get a good blend of one-on-one training and camaraderie of group training. You get to interact with others during workouts while having a tailored program just for you." We're excited to continue training with Stefanie and see what all she can achieve in the future.