Beth has been a dedicated member at Focus Fitness for 6 months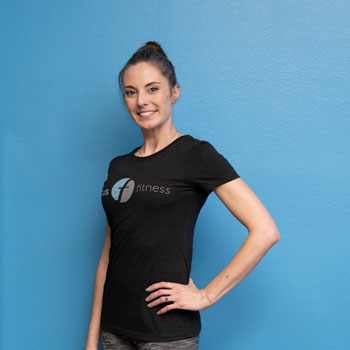 now. Before starting with us, she had tried another gym with personal training. However, with that, she felt as though she wasn't able to track her progress because there was no set program. After seeing raving reviews online about Focus Fitness, she began training with us. 
Training at Focus Fitness with a small group has helped Beth feel more relaxed in a gym environment after having "gym anxiety" in the past. "Everyone was non-judgmental when introduced. I felt like I would be comfortable." With the members of the gym being all so different, whether it was by age or lifestyle, Beth likes that she doesn't have to fit into the culture. "The culture there is unique; Dave and Paymahn are not your typical trainers. They're not 'gym bros' and nobody else is either. It's nice to have that personal training experience but it's also nice to share that time with others that you wouldn't normally bump into."
With the training at Focus Fitness, Beth found that she likes that the programs are tailored to each individual. "I can tell that my programs will be geared to face my issues and overarching goal. The programs are just long enough to track throughout the month but they change so you aren't doing the same thing." With her program, she has noticed a huge difference. "I'm doing things I never thought I could do. I didn't know what to expect but I feel better and stronger." Some highlights of her successes after starting the program include being able to do push-ups, lifting weights she didn't think she could lift, and even coming regularly to the gym. Beth no longer feels the anxiety and doesn't need to find excuses to skip coming to the gym.
Outside of the gym, Beth notes, "I am more aware of what I'm eating and how I'm taking care of my body. I pay more attention to taking care of myself." She feels more confident and healthy. Although her goals of becoming stronger and healthier haven't changed, Beth's expectations have. She knows now that she can do things that she didn't think were possible before. To Beth, our program at Focus Fitness is worth trying out. "Give it a chance because once you experience how it works, you'll understand it a lot better." That's what happened to her.